The Road Less Traveled canvas art prints by Linda Paul
Contemporary abstract limited edition canvas art prints of colorful landscape and man on bicycle trying to find his way. There are three matching abstracts as well. Made in Linda's Colorado art studio.
from $

149.00

to $649.00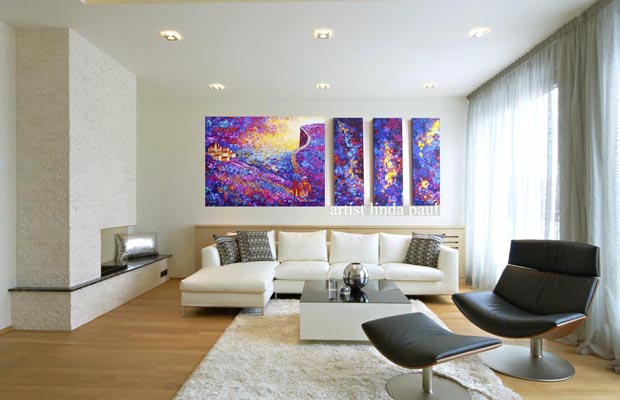 Online shopping and pricing for

Ready- to-Hang
(stretched canvas no frame needed)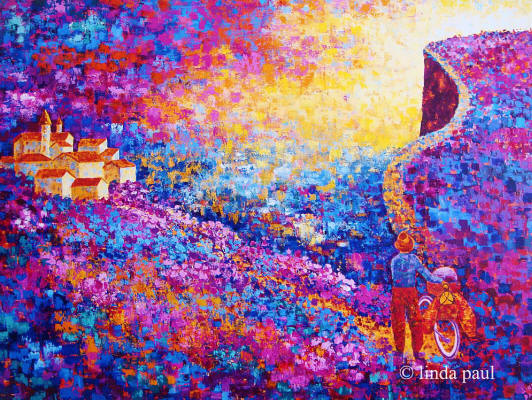 click artwork to see larger image, copyright info will not appear on the artwork that you purchase
The Road Less Traveled
Ready to hang!
Canvas Art:
Sizes: 16" x 12", 20" x 16", 24 x 20", 30" x 24", 40" x 30", 48" x 36".
Canvas is wrapped around 1-1/2" stretcher bars, with hand-painted sides and hanging hardware attached. hang canvases have a
UV & water- resistant coating.

Free shipping USA and Canada


Select size from drop down list
My colorful Road less traveled and 3 matching abstracts are a perfect way to make a large wall space and neutral decorating scheme come alive.

Artwork features a man with his bicycle trying to decide whether to take the easy road, where a warm little town and a nice dinner awaits, or the hard, steep road where all is unknown

Artists Inspirations: I love metaphors and this painting is full of them, from the obvious easy downhill road vs. the uphill steep one, to the more subtle metaphors depicted purely through color and line
Set of 3 matching abstract prints . You can order these in sizes 12" x 24" , 10" x 30" or 12" x 36". Please contact us to order canvases. You can hang these 3 abstracts vertically or horizontally. Please allow 2 weeks lead time


Abstract # 1
Ready to Hang Art on Canvas
12" x 24" - $249.00
10" x 30" - $299.00
12" x 36" - $299.00


Abstract # 2
Ready to Hang Art on Canvas
12" x 24" - $249.00
10" x 30" - $299.00
12" x 36" - $299.00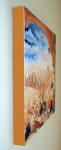 side view
Ready to Hang Canvas Art
The canvas is wrapped around 1-1/2" stretcher bars with hand-painted sides.
These artworks need no frame & arrive at your door ready to hang on your wall.


more about our canvas prints

Free Shipping in USA and To Canada
The original paintings are still available for sale

Impressionist Art by Artist Linda Paul: American artist Linda Paul uses both egg tempera and acrylic paint to create her impressionist art paintings. Traditional egg tempera is used for very hard line work, but this artist has combined the luminosity of pure egg tempera with the softness of impressionism.
I just wanted to let you know that we got our painting "The road less traveled"....is it just so beautiful. Thank you so much for doing that...we loved doing business with you, and respect your talent very much. Jeanne Mehsling
The artist wrote a poem for this painting:
Man comes to a place in the road
There are two paths
The downhill path is easier
Warm & inviting
A place for some
The other, an uphill climb
Steep, Narrow
With no reward in sight
But for some faint glimmer of hope
Choose
The Road Less Traveled
more customer comments
Your artwork Road Less Traveled arrived yesterday. All I can say is how gorgeous it is!! The picture has such meaning and depth that it begins to play on your emotions! It is so vibrant and comes alive. Such simplicity but so much meaning! God Bless you and many thanks. Sincerely, Indira
I just wanted to thank you for your lovely paintings. They arrived yesterday and I just opened them this morning. They are even more beautiful than I imagined. Also, the packaging was superb. They are exactly what I wanted. Thank you so much. Sincerely, Phyllis Plekavic

You also might like these works of art by artist Linda Paul

Seeing IS believing and we believe you will absolutely love your art purchase from "Linda Paul Studio". 100% money back guarantee if you are not completely enraptured with your purchase."