Sunset Over Tuscany Art on Canvas by artist Linda Paul
Large canvas wall art prints of Tuscany landscape at sunset - Limited Edition



Artwork features grapes, wine, olives, cheese and pears, & the Tuscan village of San Gimignano, Italy, also know as little Manhattan for its 14 medieval towers. In the 1500's there were over 70 towers in San Gimignano, They were owned by the aristocratic families like the Medici and were used as defensive bases when they were invaded. There are only 14 towers standing today. These beautiful landscape pictures are perfect for Italian Decor!
from $

299.00

to $649.00
Questions? Call 303-818-2663
copyright info will not appear on the artwork that you purchase
Online shopping and pricing for

Ready- to-Hang
(stretched canvas no frame needed)
Ready to hang on your wall!
Canvas Art:
Sizes: 10" x 8" x 1-1/2", 16" x 12", 20" x 16", 24" x 20", 30" x 24",
40" x 30", 48" x 36". Canvas is stretched over 1-1/2" stretcher bars, with hand-painted sides and hanging hardware attached.

No frame needed!
more info on stretched canvas
Select size from drop down list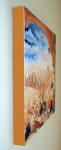 side view
Ready to Hang Canvas Art
The canvas is wrapped around 1-1/2" stretcher bars with hand-painted sides.
These artworks need no frame & arrive at your door ready to hang on your wall.


more about our canvas prints

Free Shipping in USA and To Canada
You also might like these works of art by artist Linda Paul
Questions? call 303-818-2663