Standing Tall Art on Canvas by artist Linda Paul
Buy this beautiful artwork of the Boulder Flatirons as a canvas art print or as a framed art tile. Artist Linda Paul artist lives just outside Boulder Colorado and this painting of the Boulder Flatirons is one of her favorite views.
from $

89.99

to $399.00
Online shopping and pricing for

Ready- to-Hang
(stretched canvas no frame needed)
Ready to hang on your wall!
Canvas Art:
Sizes: 8" x 10", 12" x 16", 16" x 20", 20" x 24", 24" x 30",
40" x 30", 48" x 36". Canvas is stretched over 1-1/2" stretcher bars, with hand-painted sides and hanging hardware attached.

No frame needed!
more info on stretched canvas
Select size from drop down list
Artist's Inspirations: Stones from the Mountain.  In the original painting of Standing Tall, I collected stone from the Boulder Flatirons themselves and ground it up and mixed it with egg yolk to paint the mountains and rocks in the foreground. The color of the Flatirons is a unique pinky red.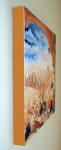 side view
Ready to Hang Canvas Art
The canvas is wrapped around 1-1/2" stretcher bars with hand-painted sides.
These artworks need no frame & arrive at your door ready to hang on your wall.


more about our canvas prints

Free Shipping in USA and To Canada
You also might like these works of art by artist Linda Paul

Seeing IS believing and we believe you will absolutely love your art purchase from "Linda Paul Studio". 100% money back guarantee if you are not completely enraptured with your purchase."