Plums and Pear Art on Canvas by artist Linda Paul
Beautiful canvas fruit art prints of a red pear and purple plums on the vine against an old stone wall. This still life art print is perfect for your kitchen
from $

89.99

to $149.00

copyright info will not appear on the artwork that you purchase

Online shopping and pricing for

Ready- to-Hang

(stretched canvas no frame needed)



Ready to hang on your wall!

Canvas Art:

Sizes: 10" x 8" x 1-1/2", 16" x 12" Canvas is stretched over 1-1/2" stretcher bars, with hand-painted sides and hanging hardware attached.


No frame needed! more info on stretched canvas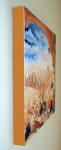 side view
Ready to Hang Canvas Art
The canvas is wrapped around 1-1/2" stretcher bars with hand-painted sides.
These artworks need no frame & arrive at your door ready to hang on your wall.


more about our canvas prints

Free Shipping in USA and To Canada
Just to let you know that the framed prints-Fruits of Tuscany & Fruits of Provence have arrived. Beautiful ? Yes. But that's an understatement. They are more of a visual masterpiece. The vivid hues, realistic still life, and soft scenic background not only compliment the painting, but they also seem to awaken the senses. You can almost detect the delightful fragrance of the lavender fields, and taste the delectable fruits, breads, and wine. The quality is outstanding. I was also impressed with the packaging. Great care was taken to ensure that the paintings arrived undamaged. I'm sure that I'll be a return customer. Robert Dudley Massillon, Ohio.

We received our Plums & Pear 12 x 16 print the other day and I couldn't wait to hang it up - it's just beautiful! The colors are vivid and the painting is just an absolute pleasure to look at. We just re-finished our kitchen and your painting was the lovely finishing touch (it looks fabulous on our aubergine wall)! Thank you! Susan Greitz
more customer comments
You also might like these matching Fench and Italian works of art by artist Linda Paul

Seeing IS believing and we believe you will absolutely love your art purchase from "Linda Paul Studio". 100% money back guarantee if you are not completely enraptured with your purchase."