Boats in the Harbor original framed egg tempera painting by artist Linda Paul
Original painting of a sunset over the ocean and a harbor with sailboats & the funky house boats of Victoria harbour. Free shipping in USA and to Canada
Price $699.00
Sale Price $
299.00
framed Size 31" wide x 27" high

Questions? call 800-936-9958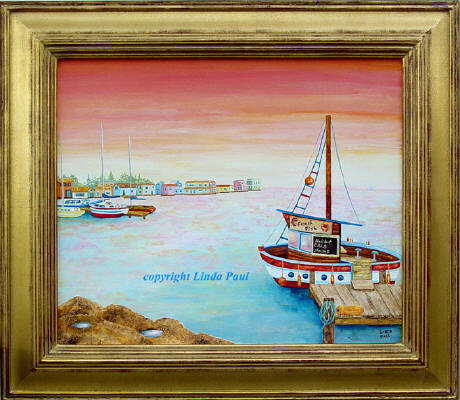 copyright info will not appear on the art that you purchase
Artists Inspirations:
I went on a trip to the Pacific northwest and Victoria Canada. I loved my visit to Victoria Harbor (or harbour if you are Canadian). It is a beautiful harbor teeming with life. It has lots of funky, colorful house boats and a beautiful marina. It is the inspiration for the harbor part of my painting, with lots of artistic license of course. While in Victoria, I was searching out the best fish & chips and got the idea for the floating fish shack in the painting. I love a harbor where you you can buy fresh fish, crabs, mussels right off the boat.

This artwork was painted in pure egg tempera made from natural crushed stone & earth mixed with a bit of water and egg yolk. Blues come from crushed lapis lazuli, greens from malachite & natural green earth found around Verona Italy. Painter Linda Paul uses fascinating colors which have been "lost" for hundreds of years & new colors which she has discovered in the Rocky Mountains. Her earth ochers come from the ancient mines of France & Italy. read more about egg tempera paintings:
email the artist or call 1-800-936-9958

Here is how my boats in the harbor painting was created:
I have started my sketches for a new painting. This is a rough sketch of just the old boat that I want in the foreground. I want a harbor painting that is alive with life & spirit. The old boat will be a floating fish shack and restaurant .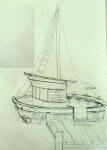 I know that I want bright colors for the fish shack boat and house boats, but I am not sure what color I want the sky and the water, so I am going to do a little study painting of sky and water and a single sailboat. I have put down and under layer of slate blue and white shades and then I will start layering colors and some fascinating metallic pigments which should have a beautiful shimmering effect on the water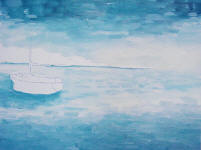 Just from starting the study (above) I know that I want beautiful color in the sky that reflects into the water. I have started on the sky and water portion of the big painting. I have painted a blue and white base for the water and then I have put a layer of pure liquid silver over the blue. This does two things. It creates shimmery glints of light and it also isolates the blue to that I can overlay other colors without it blending with the blue. Its also just cool to use pure silver in painting . You can't do that in an oil painting, only in egg tempera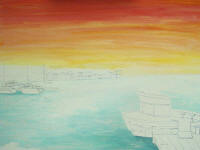 A little sidebar:
I took a little trip out to the Pacific Northwest this summer. My main base was the Port Angeles/Sequim area , and from there I went out to the farthest northwest point of the United States called Cape Flattery. This is one of the most beautiful places I have ever been. The spirit of the land and sea is amazing. I love everything fishy and would love to live in a fishing port. For now I will have to settle for visiting and painting it. The area was very inspirational. I was inspired by the boats and the water and the seafood! So I am playing with the idea of a old, colorful fishing boat turned fish shack against a backdrop of coastline, sailboats and the ocean.
If you ever get out to Neah Bay and make sure you stop at this fish shack on the reservation for the best smoked salmon you will ever eat in your life. From humble things comes greatness. Its hard to describe the sublime taste of this salmon.
Here is a picture of the fish shack and smoker. Make sure you stop and get some! Its down the road from the museum and cultural center as you go through the town area of Neah Bay, but its on a side street, off the main drag, so watch for it or ask a local.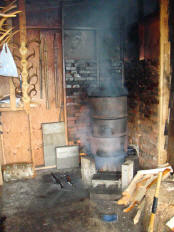 No chi chi store or fancy smoker, just the best smoked salmon you will ever have in your life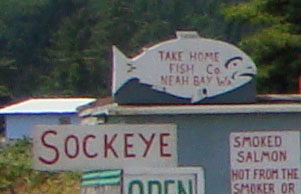 Take home Fish Co - Neah Bay, Washington
You also might like these works of art by artist Linda Paul
Questions? call 800-936-9958