Spring Flowers Tile Kitchen Backsplash Mural by artist Linda Paul
Beautiful tile murals of spring flowers and garden critters by American artist Linda Paul Made in my Colorado art studio
Artist's Inspiration:
I love my flower gardens and really look forward to spring every year when new life emerges. Gardens are places of hope and faith. These murals include a lot of my favorites; tulips, poppies, a gold finch, butterfly, daffodils, bleeding hearts, butterflies, dragonflies and snails Artist Linda Paul.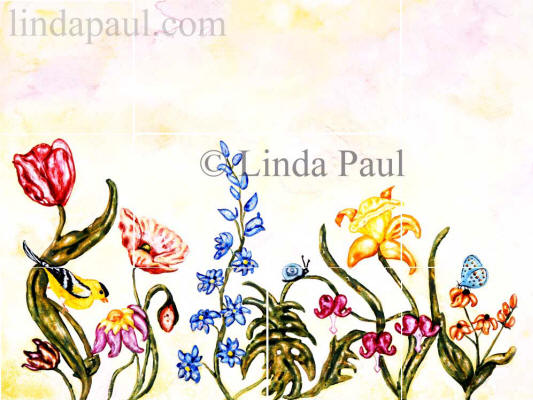 Spring Flowers by American Artist Linda Paul
Price $
499.00
and up

Our beautiful murals and accent tiles are made on 1/4" thick ceramic tile

Please contact us for custom sizes or to order your mural on 4.25" x 4.25" tile
more details about tile types, sizes etc



Murals and accent tiles have a satin finish
Pricing & Online Shopping

mural on 6" x 6" ceramic tile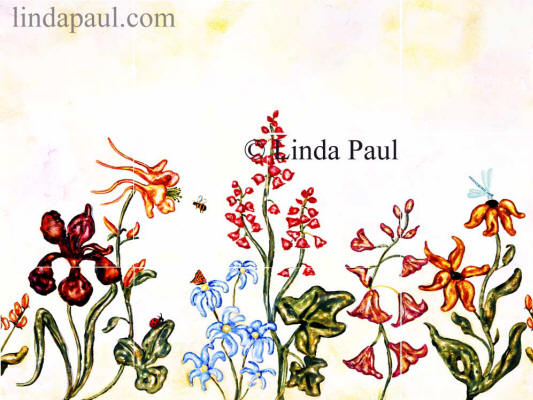 Mural 2 - Flower Garden


6" x 6" ceramic tile mural backsplash
Accent Tiles 4.25" x 4.25" and 6" x 6" ceramic $50.00 each. lead time 1 week ( 1/4" thick)
Borders Tiles of Flowers

We can create a flower border for you in any length you need on 4x4 or 6x6 tiles
$50.00 per tile




this 5 tile border example 30" x 6"



The two murals can be combined to create any size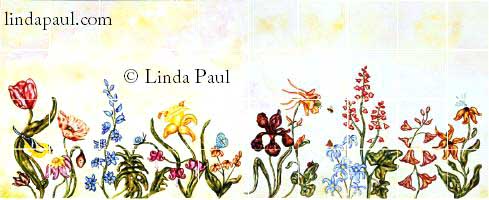 48" long x 12" high on 6x6" tile $639.00
Dimensions are given as length first, then height.
Don't know What Size to Order?
If you are not sure which size of backsplash mural to order, just email us a straight on picture or design drawing of the space you have for your backsplash and we can tell you which is the best size for your space. Be sure to include all dimensions. We can design the perfect backsplash mural just for you! Artist Linda Paul is an expert in designing her images to fit your space perfectly!
contact our tile design experts or call 1-800-936-9958 to order or inquire
toll free from USA, Canada, the Caribbean, Alaska or Hawaii

Our murals ship in approx. 2 weeks, free shipping in USA and to Canada see our in stock murals
you can expedite your order
to ship in 1 week for an additional charge of $100.00
just click add to cart
Installation Pictures
you also might like these art and tile products from Linda Paul Studio