Fishing with Picasso - Contemporary Art Painting by artist Linda Paul
Picasso style colorful fish painting with a nod to Cubism in beach house colors of turquoise green orange and blue. This original art is perfect for a modern or contemporary beach condo or home. Beach wall art by American Artist Linda Paul
Super fabulous price of just $

799.00

for this large original work of art.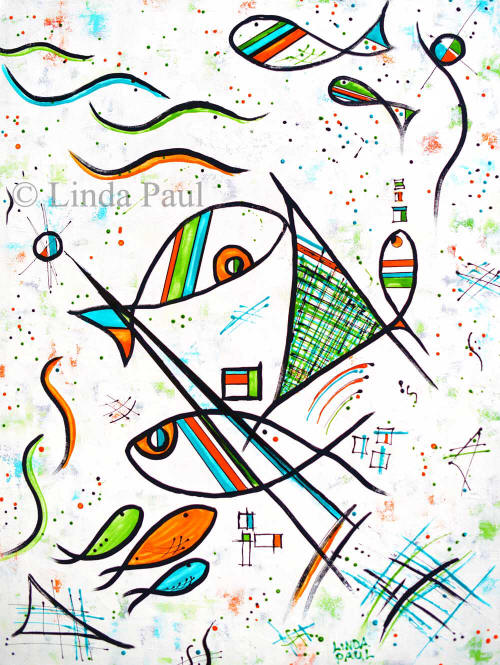 click picture to see large image. - copyright info will not appear on the art that you purchase

painting can be hung in a vertical or horizontal orientation, see pictures below
Artist's Technique:
I first created a textured background using a large rubber spatula and layers of grey, turquoise, green and tangerine colored acrylic paint. I then went over all of those layers with thick white paint to create the unique look to the background of the artwork.

On top of these layers I painted the bold black lines of the fish, connecting some of them. I then used just three simple beachy colors of turquoise blue, green and tangerine orange. The sail is a plaid effect which I also used more simply throughout the painting. The style of the artwork is a deconstructed cubism that is fresh, airy and lively
The Back Story

This picture shows the back of the painting. When I have leftover paint on my palette, I will put it on the back of a canvas. This actually strengthens to canvas and makes it stiffer. You know you have an original too!
Hanging hardware is attached to the back so it arrives ready to hang on your wall. If you want to hang it with a horizontal orientation, let me know and I will change the wire for you or just add another one so you can hang it either way
Here are a couple ideas of how to decorate with this painting.

Modern White Kitchen with Orange accent wall and Fish Art by Linda Paul

Linda Paul's Fishing with Picasso is available as a
tile mural
or individual fish tiles in 2x2, 4x4 or 6x6" sizes
This picture shows how my Fishing with Picasso painting look in a modern beach house. Many contemporary decorating color schemes have a very white or neutral palette and they really need a pop of color. The vertical orientation makes this painting perfect on this beach house fireplace wall.. The background of the painting has a nice texture that goes perfect with the white stone of the wall. The turquoise blue picks up that ocean color and the airy style of the artwork compliments the room perfectly
This photo shows my fish painting in a bedroom above the bed in a horizontal orientation. It works both ways! having the wall behind the bed a darker color really makes the artwork pop.



How will it look in my house?


If you send me a straight on photo of your wall , along with some measurements for reference, I can send you back a photo showing how this artwork would look in your space!
You also might like these ocean and fish inspired beach wall art paintings

Seeing IS believing and we believe you will absolutely love your art purchase from "Linda Paul Studio". 100% money back guarantee if you are not completely enraptured with your purchase."