Canvas Art Prints

by artist Linda Paul

Prices $

89.99

to $699.00

Free Shipping in USA and To Canada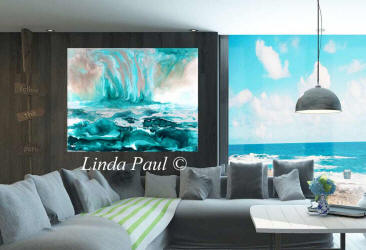 Small and LARGE canvas art for home decor.

Frameless or framed high quality

archival limited edition canvas art prints.
shop online or call 303-818-2663 Small and large art prints on canvas are available for each image Sizes 8" x 10" to 30" x 60"

Most orders for canvas art prints ship out from our studio within 10 days.


The Vineyard
small & large prints on canvas
sizes up to 54" x 24". We can add your name to the wine bottle
Tuscany Arch
canvas art print
sizes 10" x 8" to 48" x 36"
can customize wine bottle with your name
Sunflower Field
canvas art print
10" x 8" to 48" x 36"
French Bistro

we can personalize the restaurant signs with your name(s) sizes up to 36" x 48"
Ready to Hang Canvas Art
The canvas is wrapped around 1-1/2" stretcher bars with hand-painted sides.
These artworks need no frame & arrive at your door ready to hang on your wall.


about our canvas prints

Free Shipping in USA and To Canada
Frameless Canvas Art Features:


- ready to hang
- made by the artist in USA
- hanging hardware
attached
- hand-painted edges
- hand-signed by the artist
- certificate of Authenticity
- archival quality
- wooden stretcher bars
Ready to Hang - Canvas
Print Prices:
8" x 10" $ 89.99
12" x 16" $149.00
16" x 20" $225.00
18" x 24" $299.00
20" x 24" $349.00
24" x 30" $399.00
30" x 16" $399.00
36" x 16" $399.00
36" x 18" $399.00
24" x 36" $469.00

30" x 36" $549.00
40" x 20" $499.00
40" x 30" $549.00
48" x 16" $449.00
48" x 24" $599.00
48" x 36" $649.00
54' x 24" $599.00
60" x 20" $599.00
60" x 30" $699.00
72" x 24" $699.00
We received our pictures yesterday and I have to say I was anxious to see, how they look in person. They met all our expectations. The prints are very pretty, I especially love the quality and beautiful colors and am already making space for some more pictures. We are very pleased with our purchase. Thank you very much. Beata Drozda


more customer reviews




"Hello Linda, Just a quick note to say that I LOVE my giclee print (A Day in Provence) I just wish I had gotten a larger one! The colors are just magnificent! I am actually considering buying one of your original bas-relief paintings now --- Jackie
Art by Category