Blueberry Tart Art on Canvas by artist Linda Paul
Canvas print of blueberries and blueberry tart against an old stone wall
from $

89.99

to $149.00

copyright info will not appear on the artwork that you purchase

Online shopping and pricing for

Ready- to-Hang

(stretched canvas no frame needed)



Ready to hang on your wall!

Canvas Art:

Sizes: 10" x 8" x 1-1/2", 16" x 12" Canvas is stretched over 1-1/2" stretcher bars, with hand-painted sides and hanging hardware attached.


No frame needed! more info on stretched canvas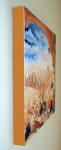 side view
Ready to Hang Canvas Art
The canvas is wrapped around 1-1/2" stretcher bars with hand-painted sides.
These artworks need no frame & arrive at your door ready to hang on your wall.


more about our canvas prints

Free Shipping in USA and To Canada
I received the artwork yesterday and it looks great! I was looking for something unique and different to put in my kitchen and found your site. The painting fits perfectly with the look I'm going for. Thanks Susan Byer more customer comments
Linda Paul is one the most popular still life artists! Her pictures of French food & still lifes of fruit with plums, pear, grapes, olives, cheese and wine are perfect for French Kitchen decorating.
You also might like these matching French and Italian works of art by artist Linda Paul

Seeing IS believing and we believe you will absolutely love your art purchase from "Linda Paul Studio". 100% money back guarantee if you are not completely enraptured with your purchase."