The Art of Coffee Art on Canvas by artist Linda Paul
Art cafe canvas prints of coffee - from field to cup. Beautiful canvas coffee prints for coffee home and kitchen decor with coffee beans, burlap bags, coffee plants & Hawaiian Kona flowers, coffee grinder and biscotti cookies all overlooking a tropical plantation By American artist Linda Paul. Limited Edition

from $

89.99

to $649.00
Questions? Call 303-818-2663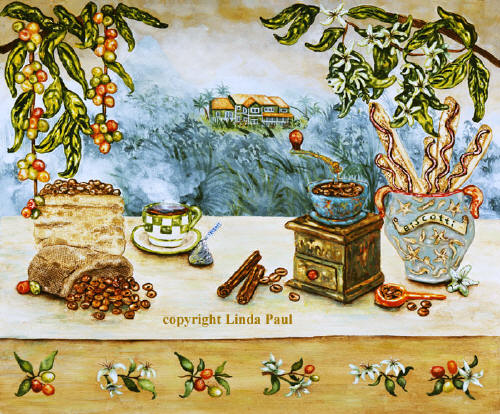 copyright info will not appear on the artwork that you purchase
Online shopping and pricing for

Ready- to-Hang
(stretched canvas no frame needed)
Ready to hang on your wall!
Canvas Art:
Sizes: 10" x 8" x 1-1/2", 16" x 12", 20" x 16", 24" x 20", 30" x 24",
40" x 30", 48" x 36". Canvas is stretched over 1-1/2" stretcher bars, with hand-painted sides and hanging hardware attached.

No frame needed!
more info on stretched canvas
Select size from drop down list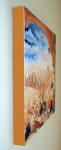 side view
Ready to Hang Canvas Art
The canvas is wrapped around 1-1/2" stretcher bars with hand-painted sides.
These artworks need no frame & arrive at your door ready to hang on your wall.


more about our canvas prints

Free Shipping in USA and To Canada
Artist's Inspirations: I love coffee! Couldn't paint without it. If I was ever on Survivor, and they allowed me to bring one luxury good, it would have to be coffee! Combine that with my desire to live somewhere tropical like Hawaii and the inspiration for this painting was born. I imagined a window overlooking a misty coffee plantation with a volcano in the background, hanging coffee vines, burlap coffee bags some cool coffee cups, a grinder, and of course biscotti cookies and a Hershey's chocolate kiss that goes oh so perfect with coffee. I wanted to portray that coffee
is
an art and a beautiful process from the field to your coffee cup.
You also might like these coffee inspired works of art by artist Linda Paul
Questions? call 800-936-9958