A Day in Provence Art on Canvas by artist Linda Paul
Art on canvas of St Remy, a village in Provence, France. Scene features a French cafe, menu, shuttered windows, flower cart. Its perfect for Provence decor and country French decorating! Limited Edition

from $

89.99

to $649.00
Questions? Call 800-836-9958
copyright info will not appear on the artwork that you purchase

we can personalize the signs of this artwork with your names. see example below
Online shopping and pricing for

Ready- to-Hang
(stretched canvas no frame needed)
Ready to hang on your wall!
Canvas Art:
Sizes: 10" x 8" x 1-1/2", 16" x 12", 20" x 16", 24" x 20", 30" x 24",
40" x 30", 48" x 36". Canvas is stretched over 1-1/2" stretcher bars, with hand-painted sides and hanging hardware attached.

No frame needed!
more info on stretched canvas
Select size from drop down list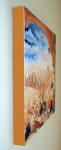 side view
Ready to Hang Canvas Art
The canvas is wrapped around 1-1/2" stretcher bars with hand-painted sides.
These artworks need no frame & arrive at your door ready to hang on your wall.


more about our canvas prints

Free Shipping in USA and To Canada
My inspiration for this artwork came from my first trip to Provence France. I love exploring the winding narrow streets and market squares of the little French villages. Sitting at a cafe and people watching is a favorite past time of mine. This painting was inspired in St. Remy de Provence which makes a great home base for visiting all of Provence. If you walk down the lane you will come upon the fabulous St. Remy market square.
You also might like these works of art by artist Linda Paul
Questions? call 800-936-9958