Tuscan Village Tile Kitchen Backsplash Mural by artist Linda Paul
Beautiful tile murals of a Tuscan Village by artist Linda Paul. This tile mural is a series of Italian vignettes: The first is a Tuscan house where tomatoes are being strung and are drying in the sun. This is where sun dried tomatoes come from! My cocker spaniel is sitting on the step. A red bicycle is parked with all kinds of goodies from the market. Through the wisteria framed archway is Cafe del Dolce Mama! At the very back of the cafe is a tiny arched window with a miniature Italian landscape. A flower shop is laden with Tuscan sunflowers, tulips, calla lilies, gladiolas, blue hydrangeas and curly willow. The last little store is a gelato and Italian dessert shop where you can get all kinds of sweet things. Its siesta time in the village. dolce far niente - the sweetness of doing nothing! This mural is perfect for Tuscan decor . Made in my Colorado art studio

by American Artist Linda Paul
Price $
499.00
and up
Our beautiful murals and accent tiles are available in porcelain/ceramic, marble or glass tile.
Marble tile murals have a 35% surcharge. Glass is same price as ceramic. Please contact us to order your mural with glass or marble tile
more details about tile types, sizes etc



Our standard finish is a satin finish, Just let us know if you want a glossy finish (same price)
Pricing & Online Shopping
6" x 6"

x 3/8" porcelain

tile mural backsplash
Tuscan Accent Tiles 6" x 6"

x 3/8" porcelain

$50.00 each (can also be ordered in a 4.25" x 4.25" x 1/4" thick size)
H
eat setbacks
Ceramic/porcelain or marble tile murals must be set 6" above and 2" back from any heat source. Hot pots/pans should be kept 2" away from the mural. A stone chair rail or pencil border around your mural will help to deflect heat from below

Do not install ceramic/porcelain or marble tile murals above stoves that have a heat vent on the back. The heat that comes out of these oven vents is extreme

If you do have a heat vent on the back of your stove, you can order our tile murals as beveled glass tiles where the image is under the glass so it is protected from the excessive heat of an oven vent. Here is a picture of my Tuscany Arch as a beveled glass mural. Prices are the same for glass as for porcelain tile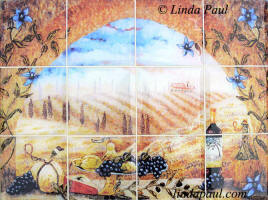 Dimensions are given as length first, then height.
Don't know What Size to Order?
If you are not sure which size of backsplash mural to order, just email us a straight on picture or design drawing of the space you have for your backsplash and we can tell you which is the best size for your space. Be sure to include all dimensions. We can design the perfect backsplash mural just for you! Artist Linda Paul is an expert in designing her images to fit your space perfectly!
email our tile design experts or call 1-800-936-9958 to order or inquire
toll free from USA, Canada, the Caribbean, Alaska or Hawaii

Our murals ship in approx. 4 weeks, free shipping in USA and to Canada see our in stock murals
you can expedite your order
to ship in 2 weeks for an additional charge of $100.00
just click add to cart
Installation Pictures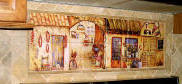 "Linda's artwork is so original and unique. I spent hours online trying to find a warm Tuscan feeling, one that had really deep, rich colors. Maybe it is the egg tempera, or Linda's fabulous designs, but either way, the mixture is perfect! Furthermore, the quality of the work product is exquisite. The tiles arrived extremely well packaged in several layers of shipping materials, they are sealed to perfection, and labeled for easy installation. My wife and I installed in about two hours and had a great time doing it! Priced right, looks incredible, I am a totally satisfied customer. Look for my next order this summer when I do the outdoor kitchen! Pedro M.
Fairfield", CT
I LOVE the mural and little accent pieces. I can't thank you enough for custom making the mural for me. Your work is beautiful, the colors are wonderful and your style suited me to a "tee". You can see from the photos that I was able to find little Tuscan house canisters to complement your artwork.

Sandra Palmer
Hi Linda, The mural is beautiful! The colors are beyond what we expected. When you said the pictures on the internet didn't do justice, you were right. The tiles are enchanting. We will probably start installing the mural this weekend. I hope to have pictures for you soon. Thanks again, Steve Purchased Tuscan Village mural
Read reviews and comments
from other customers who purchased a kitchen backsplash mural.

Artist's Inspiration:
I wanted to create a Mediterranean village and all the life it encompasses. When I travel in Europe, exploring little towns and villages is my favorite pastime. Then once I have
looked
in all four corners (my husband has a different expression for it), I love to sit down and enjoy a coffee and a treat in a nice outdoor cafe. I love how the cafes are tucked into little nooks and crannies, like the village was an English muffin. Artist Linda Paul
you also might like these art and tile products from Linda Paul Studio