Tuscan Kitchen Tapenade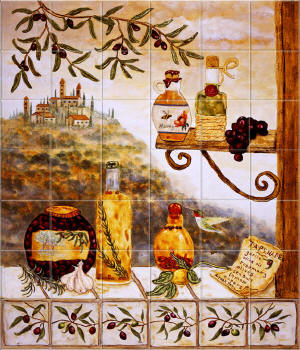 click picture to see larger
Dimensions are given as length first, then height Shipping is free within Continental USA.

Custom Tile Murals: We can also create a custom mural to fit your individual space. Just give us the length and height of the space you have for your mural, and we will email you a quote with pictures to show exactly what your mural will look like. We use either 4" x 4" or 6" x 6" tiles, so your measurements should fit dimensions using either of these tile sizes.
| | | |
| --- | --- | --- |
| | We can also do Tuscan Kitchen as olive bordered square (left) or a plain square (right) in the following sizes | |

Here is another design if you need Tuscan Kitchen as a horizontal mural
"Tuscan Kitchen - Olive Vine Sides"

Tuscan Design Accent Tiles
Accent tiles: 4" x 4" or 6" x 6"
| | | | | |
| --- | --- | --- | --- | --- |
| TKT-1 | TKT-2 | TKT-3 | TKT-4 | TKT-5 |
Olive branch border tiles of black & green olives !
You can order the entire border of 6 tiles with the branch (vine) or you can order the tiles individually


Olive branch border (4" or 6" tumbled stone) 8
The branch runs continuously through the tiles
Individual tiles (below) The branch does not run through the tiles.
| | | | | | |
| --- | --- | --- | --- | --- | --- |
| TKT-11 | TKT-12 | TKT-13 | TKT-14 | TKT-15 | TKT-16 |
We can design the perfect mural just for you! Artist Linda Paul is an expert in designing her images to fit your space perfectly!
Tile sizes used for murals & backsplashes are:
4" x 4" or 6" x 6" (x 3/8") tumbled stone

Most of our custom murals ship in 4 weeks
Our Italian tumbled stone murals come with a satin/matte finish.

Our tile murals are easy to clean with soap & water and are designed to be used as kitchen backsplashes & behind stoves & ranges.
email our tile design experts or call 1-800-936-9958 to order or inquire
toll free from USA, Canada, the Caribbean, Alaska or Hawaii

To better assist you, please have dimensions for installation area available when calling or emailing*Please write down title of artwork along with code underneath your accent choices

"The mural is absolutely terrific and better than we'd even hoped. The attention to detail, the vibrancy of the colors – the beauty of the actual work blew us away! It's tough to buy things like that with only a picture on the Web, but the quality of your work is truly outstanding. The accent tiles were a great addition to the remaining tile work around the kitchen and tie it all together. Everyone who walks into our kitchen stops in their tracks and says "WOW." Everyone should have a Linda Paul mural in their kitchen. Ardath Albee "
Read reviews and comments from other customers who purchased a kitchen backsplash mural.
Click here to see all our kitchen backsplashes & wall murals for sale

| | | |
| --- | --- | --- |
| click picture to see larger image | | |