Fields of Tuscany Tile Kitchen Backsplash Mural by artist Linda Paul
Beautiful kitchen backsplash mural of Tuscan landscape with hill town, little church, blue sky and flowers. Made with heart and soul in my Colorado art studio.
Artists Inspirations:
I have visited Italy several times and always find the Tuscan landscape of rolling hills and soft light truly inspiring. I originally painted this artwork "for myself" and to fit a particular spot in our home. You have to look real close to see the old man leading two little sheep into the field. The artwork also features the Tuscany village of San Gimignano, Italy, also know as little Manhattan for its 14 medieval towers. These beautiful landscape murals are perfect for Italian Decor! Tile murals of Italy by American artist Linda Paul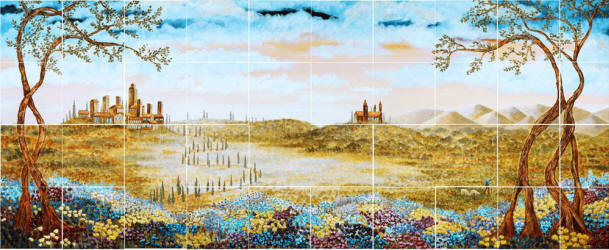 click picture to see large image
Fields of Tuscany by American Artist Linda Paul
Price from $
499.00

Our beautiful murals and accent tiles are available in porcelain/ceramic, marble or glass tile.
Marble tile murals have a 35% surcharge. Glass is same price as ceramic. Please contact us to order your mural with glass or marble tile
more details about tile types, sizes etc



Our standard finish is a satin finish, Just let us know if you want a glossy finish (same price)
Pricing & Online Shopping

6" x 6"

x 3/8" porcelain

tile mural backsplash
Accent Tiles 6" x 6"

x 3/8" porcelain

$50.00 each (can also be ordered in a 4.25" x 4.25" x 1/4" thick size)
H
eat setbacks
Ceramic/porcelain or marble tile murals must be set 6" above and 2" back from any heat source. Hot pots/pans should be kept 2" away from the mural. A stone chair rail or pencil border around your mural will help to deflect heat from below

Do not install ceramic/porcelain or marble tile murals above stoves that have a heat vent on the back. The heat that comes out of these oven vents is extreme

If you do have a heat vent on the back of your stove, you can order our tile murals as beveled glass tiles where the image is under the glass so it is protected from the excessive heat of an oven vent. Here is a picture of my Tuscany Arch as a beveled glass mural. Prices are the same for glass as for porcelain tile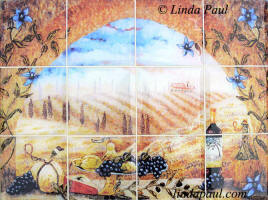 Dimensions are given as length first, then height.
Don't know What Size to Order?
If you are not sure which size of backsplash mural to order, just email us a straight on picture or design drawing of the space you have for your backsplash and we can tell you which is the best size for your space. Be sure to include all dimensions. We can design the perfect backsplash mural just for you! Artist Linda Paul is an expert in designing her images to fit your space perfectly!
email our tile design experts or call 1-800-936-9958 to order or inquire
toll free from USA, Canada, the Caribbean, Alaska or Hawaii

Our murals ship in approx. 4 weeks, free shipping in USA and to Canada see our in stock murals
you can expedite your order
to ship in 2 weeks for an additional charge of $100.00
just click add to cart
Installation Pictures
Italian Custom Kitchen featuring our Fields of Tuscany Tile Mural , faux stone hood, gorgeous granite countertop and fabulous stone backsplash tile.
you also might like these art and tile products from Linda Paul Studio