Decorative Metal Accents of Dragonfly, Geckos, Roosters, Seahorse, Palm Trees
Collection of critters and tropical metal tiles including rooster tiles, dragonflies, geckoes, palm trees. These accent tiles can be installed in between other tiles or mounted on top of existing tile, walls, wood or any material. The relief and 3-d effect on these tiles is amazing. They can be used indoors or outdoors. Lead time about 2 weeks

Questions call 303-818-2663 or email us
free shipping in USA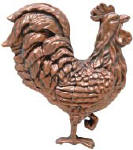 Borderless Rooster Onlay (right)
7" high x 6" wide x 1-1/8" thick
shown in copper high polish $149.95
Borderless Rooster Onlay - Facing Right
$149.95
choose from the 19 metal finishes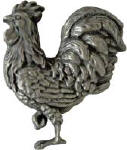 Borderless Rooster Onlay (left)
shown in nickel silver highlight polish $149.95
7"high x 6" wide x 1-1/8" thick
shown in Nickel silver antique patina with matching rope liner
Borderless Rooster Onlay - Facing Left
$149.95
choose from the 19 metal finishes



Rooster Tile (right)
7.5" x 7.5"


tile is 1/2" thick (rooster adds another 5/8")


shown in oil rubbed copper
$179.95
Rhode Island Red Rooster Tile - Facing Right
$179.95
choose from the 19 metal finishes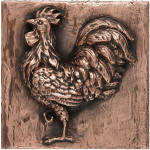 Rooster Tile (left)
7.5" x 7.5"

tile is 1/2" thick (rooster adds another 5/8")

shown in copper high polish
$179.95
Rhode Island Red Rooster Tile - Facing Left
$179.95
choose from the 19 metal finishes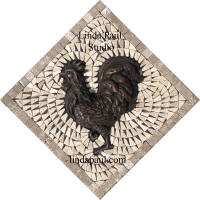 above in copper antique patina with S3 Light travertine and S5 Noche travertine mosaics

Individually handcrafted in USA. Your medallion will arrive ungrouted on a mesh backing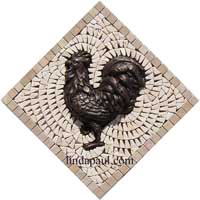 Shown above in bronze antique patina with S3 and S5 travertine mosaic and bronze antique patina rooster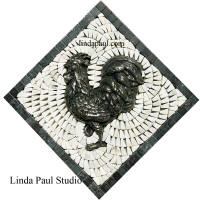 click picture to see larger image
above in nickel silver with S1 and S7 mosaics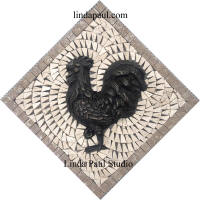 above in bronze oil rubbed
Rooster Mini Medallion 10" x 10" (can also order facing right)


Each side measures 10" x 10", top to bottom and side to side points measure 14"
Tile part is 3/8" thick. Rooster protrudes up to another 1.25" in relief.
$359.99


see more installation pictures of this medallion below
Medallions arrive fully assembled on a mesh backing, just glue to the wall and grout the stones
Please contact us to customize medallion with different metal and stone finishes (see bottom of page), in a different size or with the rooster facing to the right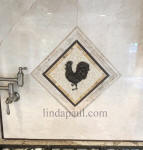 Shows installation of our rooster with Copper antique patina, S3 and S6 stones and matching copper fine rope liner
Gecko Accent Tile 4" x 4" x 3/8" -
$52.95
tile is 3/8" thick before gecko relief
minimum order is $100.00 for this item - can be combined with other items


Palm Tree Metal Tiles

4" x 4" x 3/8" -

$55.95

tile is 3/8" thick (tree adds another 1/4")
minimum order is $100.00 for this item - can be combined with other items




Dragonfly Metal Tile

4" x 4" x 1/4" -
$52.95
tile is 1/4" thick before dragonfly relief you can place it on the diagonal too
minimum order is $100.00 for this item - can be combined with other items
The accents are high quality metal coated resin. They are available in many different finishes (see bottom of page) including oil rubbed bronze, copper and stainless steel.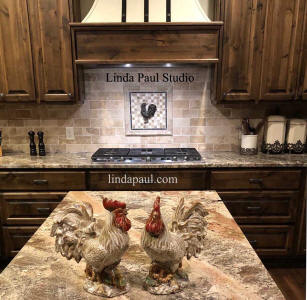 Fabulous farmhouse style kitchen

with our Borderless rooster onlay glued on top of tile. color: nickel silver antique patina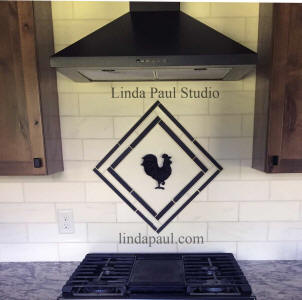 Simple and Easy on the Budget!


Our customer made this fabulous backsplash by gluing our bronze oil rubbed Rooster onlay onto a piece of white marble and then installing black and white border tile around it in a very creative pattern

Dave says. "We love it! It fits in perfectly with our kitchen remodel.
Our Rooster mini medallion takes center stage in this marble backsplash!
Customer review: by Suzette W., Las Vegas, NV
I wanted to share with you how much I love the rooster mosaic! We underwent a major kitchen and first floor remodel. Four months in the making. How delighted I was to see your website and all the beautiful medallions. I purchased this beautiful rooster mosaic for my kitchen backsplash. It is even more beautiful in person. Everyone I've had the pleasure to show it off to absolutely loves it as well. Thank you so much for your talent and an exceptional customer experience.
More customer reviews
Buy a sample for $5.00 each
samples ship out immediately via USPS mail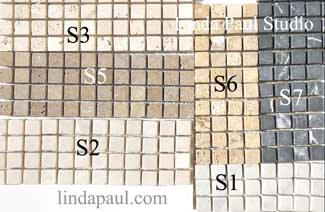 Can't decide what metal finish to order? Buy a sample for $5.00 each - online shopping below Samples are limited to one per color.
Samples are a great way to compare and match metal colors before you order metal tiles or a medallion.


Copper High Polish

Copper Highlight Polish

Copper Antique Patina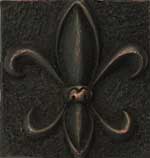 Copper Oil Rubbed

Bronze High Polish

Bronze Highlight Polish

Bronze Antique Patina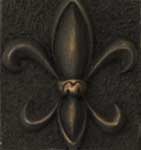 Bronze Oil Rubbed

nickel silver high polish

Nickel Silver highlight Polish

Nickel Silver Antique Patina

Nickel Silver Oil Rubbed

Brass High Polish

Brass Highlight Polish

Brass Antique patina

Stainless Steel High Polish


Iron Rust (dark brown)

Iron Wrought (black)