Cowboy Country Tile Kitchen Backsplash Mural by artist Linda Paul
Fabulous contemporary western tile mural backsplash of cowboy boots, lariat, horse heads and cowboy hat. Accent tiles too. Made with heart and soul in my Colorado art studio.
3 styles! Buy as framed or unframed tile art or as a tile mural made up of individual tiles. The framed boots are framed in metal frames, so they can be hung over your stove as a temporary, removable backsplash. Fully sealed, durable and easy to clean
Questions? call 800-936-9958
Framed Cowboy Country Ceramic Tile Facing LEFT by artist Linda Paul.
Hang as temporary, removable backsplash or wall art. Can also be glued framed and all onto wall as a permanent installation. Choice of 3 metal frame colors: black/silver edges, coppery brown or black. Comes with hanging hardware attached to the back.

framed size 14" x14".

frame choices - click to see larger image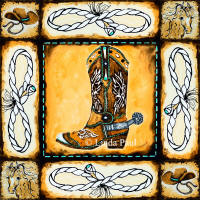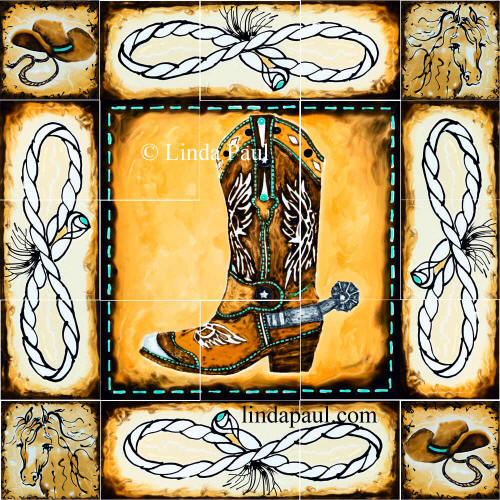 Cowboy Country Tile Mural by American Artist Linda Paul

$

499.00
and up
Pricing & Online Shopping

6" x 6"

x 3/8" porcelain

tile mural backsplash
Western Accent Tiles 6" x 6"

x 3/8" porcelain

$50.00 each
accent Tiles can also be ordered in a 4.25" x 4.25" x 1/4" thick size $50.00,
You might like to frame your mural in one of our metal rope borders. They come in 3 different sizes and a bunch of metal finishes including copper, oil rubbed bronze, nickel silver and stainless

Dimensions are given as length first, then height.
Don't know What Size to Order?
If you are not sure which size of backsplash mural to order, just email us a straight on picture or design drawing of the space you have for your backsplash and we can tell you which is the best size for your space. Be sure to include all dimensions. We can design the perfect backsplash mural just for you! Artist Linda Paul is an expert in designing her images to fit your space perfectly!
email our tile design experts or call 1-800-936-9958 to order or inquire
toll free from USA, Canada, the Caribbean, Alaska or Hawaii

Our murals ship in approx. 4 weeks, free shipping in USA and to Canada see our in stock murals
you can expedite your order
to ship in 2 weeks for an additional charge of $100.00
just click add to cart
Installation Pictures

here are a couple of mock up installations with cowboy country. Your country kitchen decor can be modern or rustic. One backsplash, two different looks
This white modern kitchen get some western inspiration with my cowboy country backsplash. The mural was framed in black to really make it pop
Go rustic with Cowboy Country backsplash in western style country kitchen with unique kitchen island and brick backsplash
you also might like these art and tile products from Linda Paul Studio