Butterfly Wall Art on Canvas - Any Size, Any Color!
get a custom color to match your decor


hand-painted in Colorado by American artist Linda Paul
You can order any size and color for one or all the butterflies and background. This art is made to order. Buy a color sample for $10.00 or order a custom color sample to match your decor. You can also buy just a black and white print. Buy as frameless ready to hang or framed art.
from $

99.00

to $649.00



click picture to see larger image. Picture shows black, white and grey living room with gold and yellow accents and Linda's large butterflies art in honeybee yellow and scarlet
How to order your custom art
: You tell Linda what size of art you want and which butterflies you want painted in what color. see examples, legend, sizes and prices below. All color is hand-painted by Linda on a black and white canvas print using beautiful India Ink and/or high pigmented paint. Each one is completely unique as Linda uses water to flow the colors in a serendipitous fashion. see a example of this process below.


Need help picking colors:
You can send Linda a picture or a swatch of a color you are trying to match. You can also email us a straight on picture of the space or room you plan to hanging the art in , along with some wall dimensions, and we can superimpose the butterflies onto your wall so you can see what it would look like

Here are just some of the color options. Let the art be a pigment of your imagination!


Tropical Green and Blue

2017 Pantone color of the year is called "greenery" which I call "Tropical Green". It is a color that will refresh, revitalize and renew your spirit. Pair it with my Tropical Blue for a happy look to brighten up your walls.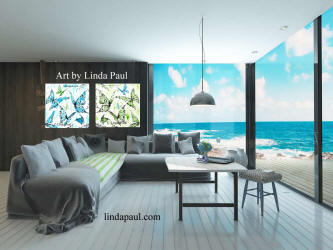 click pictures to see larger images

.

Tropical coastal living room with set of square green and blue butterfly wall art



Yellow Black, Grey white and splash of scarlet

This is one of my favorite color combinations. Add some honeybee yellow and a splash of scarlet red to a neutral grey and white room. Linda can make a set of butterflies for you , as in the picture below, or one large artwork as in the picture at the top of the page. You can have one of the panels just a large single butterfly (right panel) with a few fragment of wings. anything is possible.



Color trends in decorating: For 2018 there is a move toward brighter colors. One of my favorite colors for 2018 is a Minion bright yellow that I call Honey Bee. Paired with my black, white and grey butterflies and add a splash of scarlet red. This artwork will add a perfect pop of color and make you smile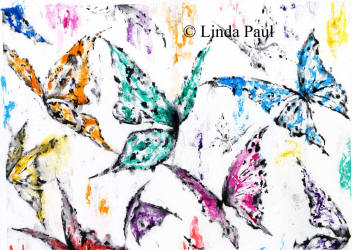 All the Colors of the Rainbow butterflies
#14 cobalt blue, #1 tangerine orange, #2 green india, #4 tropical blue, #5 honeybee yellow, #6 scarlet, #7 violet, #9 majenta, #11 deep purple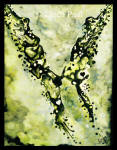 you also might like this butterfly original painting in black, white, grey and lime
New! Freedom Butterfly Original Painting




Here are the butterflies in black and white. They are numbered so you can tell Linda which ones you want painted. The background can have a wash of the same color or be left white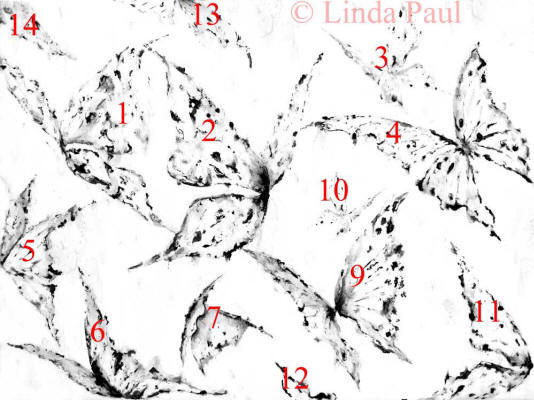 click picture to see larger. To help with your imagination, print this picture and use colored pencils or highlighters to help decide what butterflies you would like painted. you can cut it up to see if there if just a particular section you like too for example you might want one or two large butterflies surrounded by several smaller ones to represent your family

Online shopping and pricing for

Ready- to-Hang
(stretched canvas no frame needed) with hand-painted sides
click artwork to see larger image, copyright info will not appear on the artwork that you purchase


samples
Get a 3" x 3" color sample for just $10.00 or if you need a large one, get an 8" x 10" one for $40.00
Samples are hand-painted loose cut canvas and are not sealed

Sizes: The artist can make this art in pretty much any size and shape you need, Horizontal, square, vertical. you can order a single large one or sets of two or three...Here is a chart of sizes and price
These are introductory prices!
Ready to Hang - Canvas Hand-painted art (unframed)

8" x 10"     $  99.99
10" x 10" or 12" x 12" $129.00
12" x 16"   $149.00
16" x 20"   $225.00
18" x 24", 20" x 20"   $299.00
20" x 24" or 24" x 24"   $349.00
24" x 30" $399.00
24" x 36"   $469.00
30" x 36", 30" x 30" $549.00
30" x 40" , $549.00
40" x 40" $599.00
48" x 36" $649.00
Butterfly art in simple black wood frame. 7/8" wide x 1.2" deep
8" x 10" $ 145.99
10" x 10" or 12" x 12" $179.00
12" x 16"   $199.00
16" x 20"   $275.00
18" x 24", 20" x 20"   $349.00
20" x 24" or 24" x 24"   $399.00
24" x 30" $475.00
24" x 36"   $544.00
30" x 36", 30" x 30" $649.00
30" x 40" $649.00
40" x 40" $699.00
48" x 36" $749.00

example of custom order process

My customer Sandi loved the honeybee yellow and scarlet colors but wanted to choose which butterflies were painted in which colors. So she printed off my black and white legend and with a colored pencil and yellow highlighter indicated her choices and emailed it to me.
I painted the butterflies as per Sandi's colored legend. I can always add more color but can not take it away once it is down. I emailed this picture to Sandi for her input. She loved it and asked to to use my artistic license to finish it. My instinct was to add a bit more color.
I added a bit more color. This is the finished artwork.

Blues and oranges are also big for 2018 as are turquoise, pinks and purples. The surprising colors for 2018 are navy and gold pairings. With everything going on in the world, we need some happy, inspiring color in our lives
I just wanted to thank you for your lovely paintings. They arrived yesterday and I just opened them this morning. They are even more beautiful than I imagined. Also, the packaging was superb. They are exactly what I wanted. Thank you so much. Sincerely, Phyllis Plekavic

You also might like these works of art by artist Linda Paul

Seeing IS believing and we believe you will absolutely love your art purchase from "Linda Paul Studio". 100% money back guarantee if you are not completely enraptured with your purchase."/strong>