Grapes 'n Vines Kitchen Backsplash Mural by artist Linda Paul
Beautiful Kitchen tile art mural backsplash and decorative tiles of colorful hanging grapes, grapevines and an autumn vineyard view. This mural by artist Linda Paul is perfect for wine, vineyard and grape decor. Made in my Colorado art studio
Artist's Inspiration:
I wanted to create a decorative art work with a fall vineyard and grapevines surrounding an arched window. I love the colors of the autumn vineyard and the vines that are laden with their delicious harvest. The leaves are a palette of yellow, gold orange, red and green. Artist Linda Paul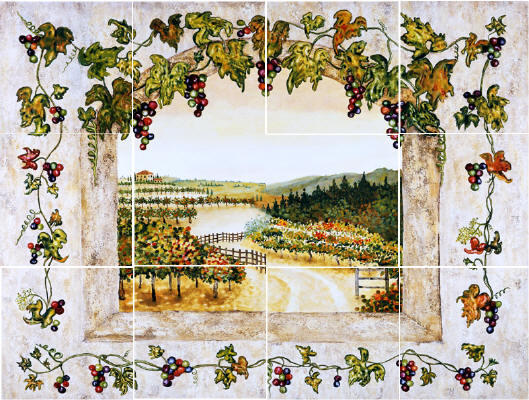 Grapes n Vines by American Artist Linda Paul
Price $
499.00
and up
Our beautiful murals and accent tiles are available in porcelain/ceramic or marble tile.


The 6x6" (x 3/8" thick) porcelain has online shopping below. Please contact us to order murals or accents on 4x4"(x 1/4" thick) ceramic tile or 6x6" or 4x4" marble tile (both 3/8" thick).
The marble murals are 25% higher than the prices listed below. All accents are the same price.

more details about tile types and sizes

Pricing & Online Shopping

6" x 6"

x 3/8" porcelain

tile mural backsplash

Longer Versions can be done stretched (picture right) or cropped without bottom row of vines(picture left)

sizes on on 6x6" tiles: 36" x 24" $799.00, 48" x 30" $1399.00, 54" x 36" $1890.00


grapes and vineyard decorative tile accents and grapevine border tiles 6" x 6"

x 3/8" porcelain

$50.00 each (can also be ordered in a 4.25" x 4.25" x 1/4" thick size)




You can use these fabulous grape borders around your kitchen counters, bathroom sink, around windows and mirrors etc.

Grapevine Horizontal or vertical Border $50.00 per tile

Just contact us with the length of border that you need and we will make it for you

Horizontal border


You can add a frame to any of our 4x4" or 6x6" accent tiles and hang them as wall art

buy frames

Dimensions are given as length first, then height.
Don't know What Size to Order?
If you are not sure which size of backsplash mural to order, just email us a straight on picture or design drawing of the space you have for your backsplash and we can tell you which is the best size for your space. Be sure to include all dimensions. We can design the perfect backsplash mural just for you! Artist Linda Paul is an expert in designing her images to fit your space perfectly!
email our tile design experts or call 1-800-936-9958 to order or inquire
toll free from USA, Canada, the Caribbean, Alaska or Hawaii

Our murals ship in approx. 4 weeks, free shipping in USA and to Canada see our in stock murals
you can expedite your order
to ship in 2 weeks for an additional charge of $100.00
just click add to cart
Installation Pictures
"

I just wanted to say thank you for such attention to detail and craftsmanship. We just got our delivery a few days ago and I installed the mural today. Pictures online just don't do it justice! We based the redesign for our kitchen and great room around this mural and the final result is exactly what I had in mind. This mural is the "keystone". The project is finally complete! Thanks again! I'll be showing off your work as long as we own this home. Greg & Heather Hamilton Decatur, IL"




Read more reviews and comments
you also might like these art and tile products from Linda Paul Studio