Market Day Tile Kitchen Backsplash Mural by artist Linda Paul
Beautiful backsplash  tiles of a French marketplace.  This tile mural is perfect for European style decor.  Tile murals of France by American artist Linda Paul. Made with heart and soul in my Colorado art studio.
Artists inspiration:
My inspiration for this artwork came from a love of French and Italian food markets and the life that goes on in them. There are so many stories going on! This artwork was inspired in my favorite outdoor market in Perigieux. But I also love the market in St. Remy de France Artist Linda Paul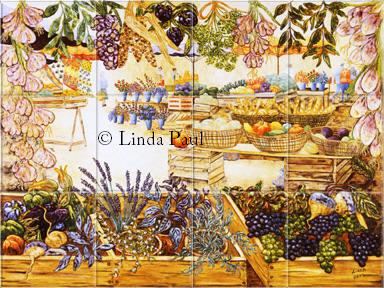 the grapes, lavender, garlic, peppers etc. in this backsplash are
purple,
not blue
Market Day by American Artist Linda Paul
Price from $
499.00
Our beautiful murals and accent tiles are available in porcelain/ceramic, marble or glass tile.
Marble tile murals have a 35% surcharge. Glass is same price as ceramic. Please contact us to order your mural with glass or marble tile
more details about tile types, sizes etc



Our standard finish is a satin finish, Just let us know if you want a glossy finish (same price)
Pricing & Online Shopping

6" x 6"

x 3/8" porcelain

tile mural backsplash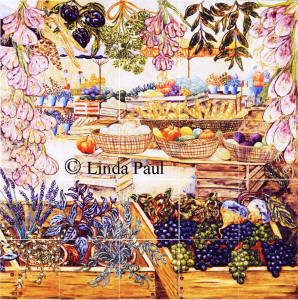 Square version of Market Day
6" x 6"

x 3/8" porcelain

tile mural backsplash
Accent Tiles 6" x 6"

x 3/8" porcelain

$50.00 each (can also be ordered in a 4.25" x 4.25" x 1/4" thick size)


Market Day - Hanging Vegetable border - 5 tiles
30" x 6" $250.00
H
eat setbacks
Ceramic/porcelain or marble tile murals must be set 6" above and 2" back from any heat source. Hot pots/pans should be kept 2" away from the mural. A stone chair rail or pencil border around your mural will help to deflect heat from below

Do not install ceramic/porcelain or marble tile murals above stoves that have a heat vent on the back. The heat that comes out of these oven vents is extreme

If you do have a heat vent on the back of your stove, you can order our tile murals as beveled glass tiles where the image is under the glass so it is protected from the excessive heat of an oven vent. Here is a picture of my Tuscany Arch as a beveled glass mural. Prices are the same for glass as for porcelain tile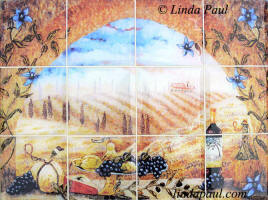 Dimensions are given as length first, then height.
Don't know What Size to Order?
If you are not sure which size of backsplash mural to order, just email us a straight on picture or design drawing of the space you have for your backsplash and we can tell you which is the best size for your space. Be sure to include all dimensions. We can design the perfect backsplash mural just for you! Artist Linda Paul is an expert in designing her images to fit your space perfectly!
email our tile design experts or call 1-800-936-9958 to order or inquire
toll free from USA, Canada, the Caribbean, Alaska or Hawaii

Our murals ship in approx. 4 weeks, free shipping in USA and to Canada see our in stock murals
you can expedite your order
to ship in 2 weeks for an additional charge of $100.00
just click add to cart
Installation Pictures
Featured market day backsplash

Our Market Day kitchen mural is the focal point of this gorgeous kitchen that combines French country styling with a traditional design Lots of design details including cream colored , glass front cabinets with a umber rub and creamy granite top. Artist Linda Paul's Market Day kitchen backsplash mural adds a perfect pop of color

Customer says,"
what a difference Linda's mural made to my kitchen. Really added the right touch of color." Patty Swenor , Vonore, TN
" My tiles arrived today and I couldn't wait to get them unwrapped! And they are just gorgeous! Exactly what I was looking for! It was definitely love at first sight when I first saw them on your web page and I could not be more pleased with the reality! Not only the artwork but the texture of the tile is perfect!. Thank you Linda, for your perfect vision, talent, and also your help in selecting just the right tiles." Sincerely, Grace Jacobus Nutley, N.J
Read reviews and comments
from other customers who purchased a kitchen backsplash mural.
you also might like these art and tile products from Linda Paul Studio